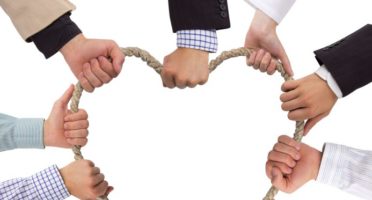 "Love in the workplace" is not a phrase you hear often, but in the spirit of Valentine's Day, I'd like to talk about it.
We have relationships with everyone in our workplace.  Some may be closer than others; some may be kind and courteous; and others may be challenging, disconnected or downright nasty!  You can improve workplace relationships starting today.
If there's one thing I've learned in my career as an expert on Workplace and Business Relations, it's that there is a big difference between love and relationships.  Love is easy, but relationships are hard.
For Valentine's Day, I'd like to invite you to celebrate the fact that you have relationships, and that these relationships have taken effort.  Congratulations!
Valentine's Day is an outward expression, like giving flowers, cards or chocolate.  I'd like to challenge you to outwardly recognize your colleagues today.  You don't have to acknowledge them with gifts—words will do.  You can improve workplace relationships with Love
Words like "I love the way you serve customers for us."
Or "I'm happy you're my boss because you seem to care about me as a person."
"We need you."
"Your skillset is valuable to us."
 "I appreciate you because…"
I use the phrase "love in the workplace" to symbolize the important things we do to connect and build rapport, like sharing admiration, giving respect, and honouring, appreciating and complimenting the people around us!  These acts of recognition are free and only take a few seconds, but they build relationships because we are all emotional creatures of pride and vanity.  We all want to feel valuable and feed our worthiness.
If you're up for another challenge, consider reconnecting a disconnected relationship in your workplace.  Look someone in the eye and pay him or her a genuine compliment.  Oh, and by the way, "Mary, you look hot in those pants" isn't an appropriate "love in the workplace" compliment.  Speak true words when you find something to compliment about.  If you can't think of something nice to say, either you're not thinking hard enough, or you need my conflict resolution services!
Even if you have to resort to writing the compliment or recognition in a little note because you're afraid of the face-to-face conversation, do that.  In my humble opinion, nothing beats a face-to-face or a phone call to convey sentiments.  The energy that you pass into the sacred invisible reservoir between two people will have a lasting affect.
Interacting and intertwining our energy with someone else to result in a positive interpersonal relationship doesn't always go as planned.  But this is where we learn the most about ourselves.  Relationships shine a light on our most needed lessons.
Remember that love is easy, but relationships are hard.  The way to better relationships is through love, respect, honour, and authentic communication with people who matter.
Love is a verb.  Take some action that is going to move someone else, especially if there's a need between you and a co-worker.  A conflict. A disconnect.  Take a step toward reconciliation today.  Call me if you need help.  A big part of what I do is help people fix broken relationships in the workplace.
Never underestimate the power of this invisible, energetic connection that you can put effort into.  Create more love in your workplace, and remember, your greatest leadership day is with Penny Tremblay.
http://pennytremblay.com/wp-content/uploads/2017/10/AAEAAQAAAAAAAAg6AAAAJDIwZTlkMDE1LTUzODAtNGRlMi05YTEyLWY2Njc2ZTU4MjExYw-e1506979396136.jpg
200
372
Penny Tremblay
http://pennytremblay.com/wp-content/uploads/2017/08/logo.png
Penny Tremblay
2017-02-14 00:00:00
2017-02-14 00:00:00
Improve Workplace Relationships with Love