Available at your favorite bookstores, or request a signed copy below
Can you really have whatever you want in life?
Absolutely! The true nature of abundance is that it has no limits. No matter where you are in your life, you have what it takes to give and receive gifts of tremendous value. Change your mindset from one of having  to one of giving, and allow the dynamic flow of abundant energy into your life.
Be prepared to:
Become rich now — in self-worth, relationships, health, time, spirit, and wealth;
Discover and enhance your inner gifts;
Determine what's blocking your path to success and make subtle changes for instant results
Decide how much you're willing to receive in life, and create space for the inward flow of abundance.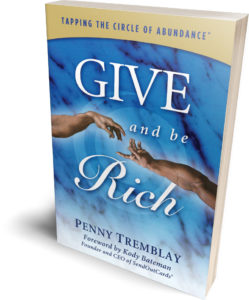 Give Be Rich
Tapping the Circle of Abundance, by Penny Tremblay
You CAN have it ALL, here and now!
The key to riches and self-fulfillment lies in giving what you already have—first to yourself, then to others, in charity and in business, and finally, being fully receptive to receive the abundance that awaits you.
Are you ready to enrich your life and reap the benefits?
"Give and Be Rich will help you to shine in your own light. You get what you focus on and when you begin to focus on your gifts and how you can enrich the lives of others, anything is possible."
"Open to any page and find valuable guidance and examples of how giving and receiving will help you manifest your destiny. Give and Be Rich is one of the most important new books of our time."
"Many people are looking for a MAGIC FORMULA for how to GET more in life…THIS is it! Getting Is Very Easy – G.I.V.E. this book to yourself and your friends and you will be forever abundant in all of the ways that really matter."
"A clarion call to a new approach for business, relationships, and family life."
"This book has changed how I feel about myself and others.  I would recommend Give and Be Rich to anyone who wants to know how easy it can be to feel like a million bucks without costing anything but kindness."
"In this incredible book Give and be Rich Penny's heart wisdom is so much more than words.  Within are true gifts for you, that when fully received, will unlock the next level of enlightenment on your journey toward the riches that you've been waiting for.  Golden Blessings…"
A portion of all book sales are donated to charities that promote education and leadership for women and children.