Relationship Building in Business is Key to Success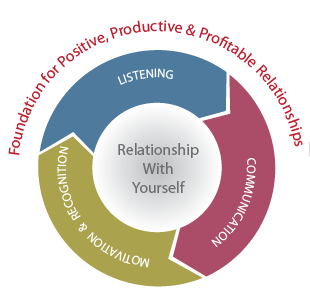 Build positive, productive and profitable relationships in any business, workplace or group with our relationship strategy.
Building a Business Relationship takes:
Effective Listening
Productive Communication
Motivation and Recognition
When people can create a culture of caring about the satisfaction of their customers, about each other and about themselves, profitability explodes!
People are hired for their technical skills, yet fired or stuck in dead-end positions because of their inability to get along with people.
Small to medium sized businesses rely on gaining and keeping customers, engaging employees and using a marketing mix to build relationship with customers.  Our seminars, conference keynotes, workshops, mentoring and products will pave your way.
Building a solid foundation for successful workplace and customer relationships is a smart investment, and we're confident that we've got what you're looking for.
Call Now for a Complimentary Discussion
Recent "Online Communication Strategies" seminar attendees write:
"Great Seminar!"  One of the best I've attended.  Didn't leave me overwhelmed with information, but inspired me to create more income, with less overhead"
"Very inspiring.  Pushed me over the edge to finally embrace technology and join my local Chamber of Commerce"
"Loved it!  Kept my interest the whole time and I will be using your expertise immediately"
"I would highly recommend for anyone to attend Penny's seminars.  Very informative, interactive and an excellent learning experience"
"This has been by far the most rewarding presentation I've been a part of.  I have learned my value, as well as new ideas for moving forward"
Recent "Workplace Relationships" seminar attendees write:
"Very enjoyable, humorous and interactive"
"Penny does a great job getting everyone to share an make a personal investment in the program"
"I loved the fact that each person was encouraged and supported to give feedback, and that all comments were honoured."
Recent "Personality Styles" keynote speech attendee wrote:
"I want to thank you and congratulate you on such a great speech. I am in my 33rd year with the school board and I have been to numerous workshops and seminars and I have listened to what seems like hundreds of presenters and I would have to say that you would have to be one of the best that we've been subjected to. When you brought up the story about Mr. Temelini it seemed to have stuck a nerve with our staff. Then you took it a step further and thanked us for being who we are and what we do , it was the icing on the cake. I don't know if you noticed from the stage but from the crowd's standpoint it was as if you were talking about us ( personally ) ; you could probably have heard a pin drop after you thanked us. It was very emotional. Thanks again."