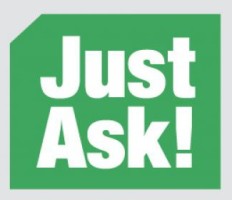 The other day I sat in a circle discussion led by my partner Matt Thorpe, addressing a group of youth at the Atikokan Native Friendship Centre, on the topic of  alcohol and drugs and the road of substance abuse, crime and violence versus the alternative; sobriety and living honestly at the top of your game.
One young fellow mentioned that he had some great experiences including attend a conference of Chiefs, and a private conversation with one of them because he had asked to participate and asked for the private meeting as well.  We shared about the power of just asking.  Ask for what you need.  Ask for what you want.  Ask for someone to include you in something you'd like to be a part of.  Keep on asking people for the things you want.
Many people don't ask.  Instead they assume that all the things they'd ask for aren't achievable, or attainable, or they're somehow not worthy.
I wrote a piece of wisdom in my recent book Give and Be Rich, about asking, where A.S.K. is an acronym for Assertiveness, Skills and Knowledge.  Be assertive to obtain the skills and knowledge that you need.  People love to give their knowledge.  People love when you show an interest in what they're up to.  You'll be surprised at the result when you  do ask, because the worst answer you could receive back is a NO, which leaves you no further behind where you were when you asked.  So you have nothing to lose, and lots to gain by asking.
On the way home from that circle discussion, I got pulled over by the OPP.  I wasn't paying attention to my speed, and I was about to get a ticket.  So I asked!  I asked if there would be a possibility that the officer would give me a break because I'm trying to clean up my driving record and lessen my insurance costs.  I'm so glad I asked and that the lesson of asking was at the top of my mind, so I am paying it forward.  Just Ask!
What will YOU ask for?
http://pennytremblay.com/wp-content/uploads/2017/09/ask-e1447469753835.jpg
200
232
Penny Tremblay
http://pennytremblay.com/wp-content/uploads/2017/08/logo.png
Penny Tremblay
2015-11-14 00:00:00
2017-10-05 16:50:58
Just Ask