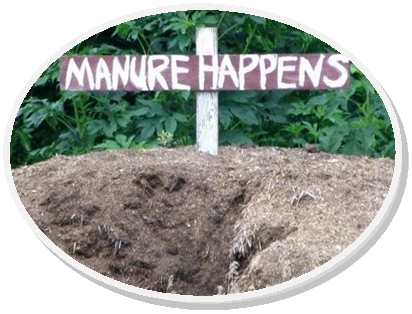 I'm gardening in a different way this year.  I've completely turned over what used to be my garden beds, and laid new beds down elsewhere to yield a different result.  It's been a family separation, and there are two gardens now.  The perennial children have been offered an opportunity to split themselves and plant themselves in two places.  Personal growth can be a struggle, as witnessed in human and plant life.
I can control my own flowerbed, and I use the word 'control' very lightly.  I've planted new seeds for my harvest to be full, and I've tried to create a fertile soil (soul) for my growth and the growth of my offspring. The best gardens grow when sprinkled with manure and tended to with love and encouragement.
Some sh*t happened the other day, it ruffled my leaves and temporarily upset the vision I had for the way my garden should grow and flow. I was in earshot of a social worker in my training session that day, so I asked her for some advice to cope, and to do what's best for my young sprouts.  She confirmed that every garden needs manure, and that the longer effects of willingly receiving the smelly situation would  improve my soil (soul) and ultimately provide the best building blocks and nutrients for everyone's growth.  I was able to see the need for manure in my garden of life and embrace it.  I was immediately able to cope with the 'aroma' of decaying matter, (the old ways of the relationship) and believe that the manure gives the greatest nutrients that will bring bigger blossoms and colourful appeal in its own time.
Did you ever wonder why manure continues to fall into your lap when you have the purest and cleanest intentions to grow? Perhaps because it's fertilizer and needed, just as the sun is needed, the rain is needed, and the storms are needed for the complete cycle of life to transform.  Celebrate your manure, and also, the manure that is spread by other farmers over your garden.  Look at it as a contribution to fertile grounds for improvement.
In my theme of my new book, Give and Be Rich – Tapping the Circle of Abundance, the chapter on RECEIVING everything that comes your way has once again been tested and confirmed this Spring.  Sometimes the greatest gifts come wrapped in the smelliest packaging.
The lesson — every garden needs manure to grow.  May all your gardens be seen as meaningful manifestations of a beautiful life, and may your own leadership be blessed by the lessons of Mother Nature.
Happy Spring!
Dedicated in appreciation to Joanne K.
http://pennytremblay.com/wp-content/uploads/2017/09/garden-manure.png
314
412
Penny Tremblay
http://pennytremblay.com/wp-content/uploads/2017/08/logo.png
Penny Tremblay
2015-06-02 00:00:00
2017-11-20 16:33:12
Every Garden Needs Manure