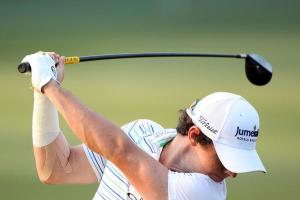 It's human nature to want to come out big—to present ourselves as larger-than-life in conversations, relationships, and success.
However, in order to come out big, we have to go in first, even though our instincts tell us otherwise.
In one of my keynotes, I talk about going in big before you can come out big, and the concept of expanding on the inside first before you can become big on the outside.
Take, for example, my favorite golfer—my son—who wants to send the golf ball as far as possible down the fairway and into the hole with the least number of strokes.  To do this, he needs to come out big off the tee.  His first motion, however, is not toward the hole.  Instead, he draws his club into a full backswing, only then bringing it forward in a more powerful way to connect with the ball and drive it much further than if he'd just teed up and swung forward.
Those of you who play the game of golf will also agree that the toughest six inches of the course are between your ears.  It's your mental game that holds your physical game together.
Regardless of what you wish to become better at, before you can come out in full swing, you need to consider the ways that you need to go in first.
Let's say you want to come out big during a workplace meeting.  You'd naturally think that you have to come out with the right words that appeal to the meeting's audience.  But what if you shifted your approach to go in first?  What if you started by listening to what people want, taking in their thoughts and feelings, and then coming out with something relevant to their input?  Do you see how you'd engage their interests more effectively and have more influence?
Going in before coming out can also resolve conflict.  When dealing with conflict, our natural instinct is to win—to place blame or find fault with the other party involved. That's your ego wanting to be right and to protect you, but it's not always the shortest path to resolve.  Rather than coming right out with your need to place blame and find fault, you could go in the opposite direction: you could go in and take responsibility for yourself.  What did you bring to the conflict?  If the conflict within you was triggered by someone else's actions, it could be a mirror for you to see something within yourself that is unresolved.
Dig in, get messy, and find out for yourself.  Explore the connection between what's happening today and how it relates to something in your past.  See what you need to see, own what's yours, and come out with cleaner hands, bigger and more powerful on the outside than had you not challenged your natural instincts first.
Going inward to develop first on the inside is the only way to come out with your full swing in life.  What would happen if you used this strategy to gain more inner expansion, power, and clarity for yourself before coming out swinging?
Dig in, and be rich in all the ways that really matter.
Penny
p.s.  I'd like to dedicate this article to Henry Brunton, for his dedication to Jr. Golf Coaching
http://pennytremblay.com/wp-content/uploads/2017/09/golfer-back-swing-e1421763238203.jpg
200
300
Penny Tremblay
http://pennytremblay.com/wp-content/uploads/2017/08/logo.png
Penny Tremblay
2015-03-24 00:00:00
2017-10-05 17:39:36
Dig In and Be Rich